4 stars apartments
in the Tirol Camp
Our cozy and fully equipped non smoking 4 stars apartments are located directly on the campsite and next to the gondola lifts with stunning panoramic views of the surrounding mountains.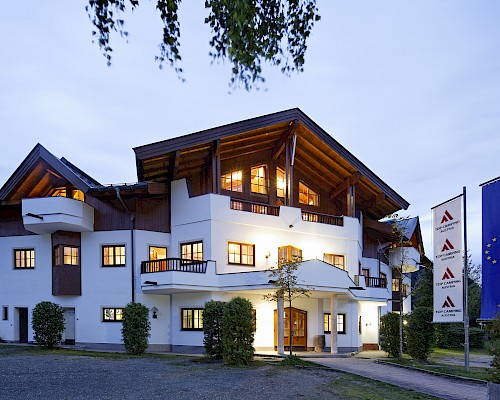 Each apartment offers:
Entrance hall, living room and a separate bedroom
Extra toilet and shower
Ski and drying room
Microwave, dishwasher, hob, fridge, coffee maker (capsules), toaster
Telephone, TV, radio, safe, hair dryer, Wi-Fi
The apartments are partly equipped with balcony / terrace. Bed linen, towels and kitchen towels, cooking, eating utensils and glasses are included. Our apartments can be booked with breakfast and the use of our heated indoor and outdoor pool is included.
Apartments
for 2 - 4 people
Prices

Date
Comment
Price
12.05.2022 to 09.07.2022

for 2 - 4 Persons - Price per apartment/night

€ 141,00
09.07.2022 to 28.08.2022

for 2 - 4 Persons - Price per apartment/night

€ 146,00
28.08.2022 to 06.11.2022

for 2 - 4 Persons - Price per apartment/night

€ 141,00
07.12.2022 to 17.12.2022

for 2 - 4 Persons - Price per apartment/night

€ 114,00
17.12.2022 to 07.01.2023

for 2 - 4 Persons - Price per apartment/night

€ 191,00
07.01.2023 to 04.02.2023

for 2 - 4 Persons - Price per apartment/night
incl. 1 free wellness entrance

€ 156,00
04.02.2023 to 04.03.2023

for 2 - 4 Persons - Price per apartment/night

€ 191,00
04.03.2023 to 16.04.2023

for 2 - 4 Persons - Price per apartment/night
incl. 1 free wellness entrance

€ 156,00
Apartments
for 4 - 6 people
Prices

Date
Comment
Price
12.05.2022 to 09.07.2022

for 4 - 6 Persons - Price per apartment/night

€ 171,00
09.07.2022 to 28.08.2022

for 4 - 6 Persons - Price per apartment/night

€ 176,00
28.08.2022 to 06.11.2022

for 4 - 6 Persons - Price per apartment/night

€ 171,00
07.12.2022 to 17.12.2022

for 4 - 6 Persons - Price per apartment/night

€ 134,00
17.12.2022 to 07.01.2023

for 2 - 4 Persons - Price per apartment/night

€ 231,00
07.01.2023 to 04.02.2023

for 4 - 6 Persons - Price per apartment/night
incl. 1 free wellness entrance

€ 186,00
04.02.2023 to 04.03.2023

for 2 - 4 Persons - Price per apartment/night

€ 231,00
04.03.2023 to 16.04.2023

for 4 - 6 Persons - Price per apartment/night
incl. 1 free wellness entrance

€ 186,00
Experience the apartments
live in 360 ° Panorama