An Adventure a day
in the PillerseeTal
For Kids and Teens, the Tirol-Camp offers limitless fun. In both summer and winter a variety of activities are available available to our youngest guests. With its five townships of Fieberbrunn, Hochfilzen, St. Jakob in Haus, St. Ulrich am Pillersee and Waidring, PillerseeTal in Tyrol offers guests young and old a multitude of entertainment and leisure options.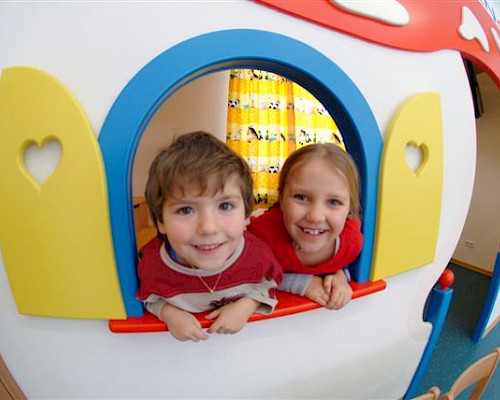 Welcome to the Topi Club
In our bright and spacious Topi-Club children have everything to be creative. Our trained staff paint, play and make things with our young guests or go on fun outings in the surrounding area.

Explore the Topi Club in more detail at:

Family Highlights
in the PillerseeTal
Timoks Alm and Timoks Coaster

"Full steam ahead" is the motto at the intermediate terminus Streuböden – right by Timok's Hut. Whizz downhill on the comfortable two-seater and then get pulled back up in comfort!
Adventure Trail: Listen up puzzle fans! Little Timok is on the look-out for fearless helpers. It is all about freeing animals from the clutches of the villains, following tracks and finding a cure for his sick grandfather! Ten interactive stations filled with tricky questions and exciting puzzles!

Triassic Park Waidring

A journey into a bygone world.
Up close with marine reptiles and other creatures from a time more than 200 million years ago. In an interactive exhibition on around 400 m² floor space, visitors get the opportunity to "journey" into a fascinating and long bygone world. Interactive stations and state-of-the-art multimedia technology give visitors and understanding of this exciting subject in a playful way.

Adventure Park Familiy Land

The adventure park "Family Land" is located in St. Jakob in Haus just a few kilometers away from our house. In the middle of the Kitzbühel Alps, you will find here more than 40 attractions:
Petting zoo, indoor climbing hall with boulder area, trampoline and and and - you will not be bored!

Bummelnacht, Spielenacht & Seeleuchten

There's always something going on in Fieberbrunn, Hochfilzen, St. Jakob in Haus, St. Ulrich am Pillersee and Waidring! Ourfantastic events and weekly functions ensure your holiday in Tirol will be unforgettable. Get an overview right away and enjoy theevent highlights at the many cultural, sporty and traditional occasions.

KINGDOM OF WATER

PillerseeTal is, in the truest sense, (a) KINGDOM OF WATER - numerous indoor and outdoor pools tempt you to have a splash and enjoy a swim. The emerald green Lake Pillersee, which gives the area its name, is situated in the heart of the valley. Refreshingly cool in the summer, it is enticing on hot days. In Waidring swimming lake you get to literally splash around in water which his of drinking quality – pure luxury say some, but for people from PillerseeTal this is just a matter of course. Lauchsee, above Fieberbrunn, which contains moor mud and is healing, providing a paradise for relaxation.

Family hiking

Hiking with the family and children is especially fun in PillerseeTal. The many day-trip destinations on the mountains beckon children and adults to go on a hike. The townships of Fieberbrunn, Hochfilzen, St. Jakob in Haus, St. Ulrich am Pillersee and Waidring are the perfect starting points for your family hike. numerous adventure trails such as Timoks Alm in Fieberbrunn,Triassic Park in Waidring.

Discover the winter
in PillerseeTal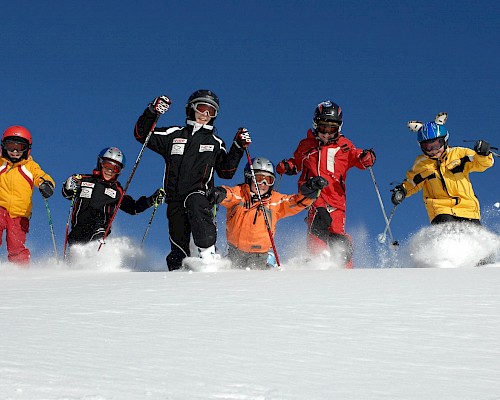 Skifun in Fieberbrunn
For beginners or those returning to skiing the ski schools in Fieberbrunn are perfectly prepared. Children from 3 years old learn here their first turns in the snow and also experienced skiers discover on special courses there is always something new to learn. In the shops and rental station you will find absolutely highest quality materials and most of all expert advice.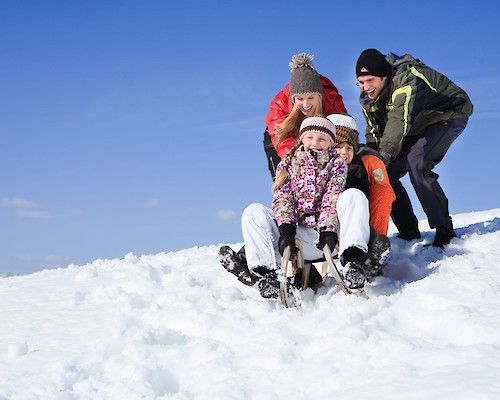 Tobogganing & more
Fun on two runners is great fun during the day – while an evening toboggan outing in Fieberbrunn, Hochfilzen, St. Jakob in Haus and Waidring has its own particular charm. All the toboggan runs in PillerseeTal are illuminated which means they can be used in the evening. Romantic horse-drawn sled rides, ice-skating, tobogganing and outdoor sports are among the tips for a variety-packed and unforgettable holiday away from the pistes in the Kitzbüheler Alpen.